Cast
Philip Stephenson
H. Toby DeMint
Maria Williams-Hawkins, Ph.D.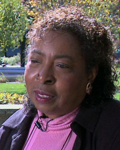 Beulah Tucholski
Maria Williams-Hawkins (Ph.D., The Ohio State University) is an Associate Professor in the Department of Telecommunications at Ball State University. She worked at WREG-TV in Memphis as a technical director, assistant producer and KMOS-TV in Warrensburg, Missouri as News Director, tenured lecturer at Sam Houston State University where she taught production and news, with a focus on coverage of death row inmates. She owned and operated an independent production company in Texas. At Ball State University, her teaching includes news, production and international media management, focusing on China. She has produced and co-produced over 100 public affairs show and received the university's first Diversity Advocate Award in 2009.
Scott Goodman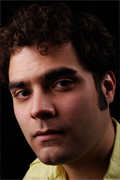 Brendan Frey
Originally from New Albany, IN, Scott is a recent graduate of Ball State University, where he majored in Acting, with an additional concentration in Digital Media. Scott has performed in a variety of films, including Death By Suicide, and Consequences, several of which have won student awards. Ball State stage credits include Yvan (ART), Bunce (One Flea Spare), Paul (HAIR), Moth (Love's Labour's Lost), and Lurvy (Charlotte's Web). He currently resides in Chicago, IL, where he works as an actor and video editor.
Vimeo site: http://vimeo.com/user3529676
IMDB Page: http://www.imdb.com/name/nm3268738/
Amanda Clark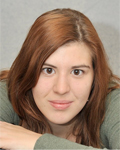 Megan Brakkle
Amanda Clark is an Ohio/Indiana based actor who completed her training at Ball State University located in Muncie, Indiana. There she was trained in movement, voice, comedy and stage combat working on a variety of roles varying from Desdemona to Meredith in Five Women Wearing the Same Dress. She has also appeared in a variety of film projects. In addition she has done work with community theatres including Muncie Civic Theatre and the Sandusky State Theatre acting on stage and directing children's camps.
Visit her website: http://asclark2.iweb.bsu.edu/acting/home.html
Zach Horner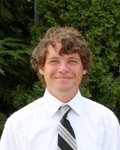 Narrator
Zach Horner graduated with a B.A in Telecommunications in 2004 and just completed his third semester toward an MA in TCOM-Digital Storytelling at Ball State; this was his first opportunity to narrate a full length film. It was a great experience and a wonderful project to be apart of. Prior to this project, Zach has done voiceover work for a few documentaries as well as commercial spots for clients of Rutter Media in Muncie. He is always looking for more voice talent opportunities.
David McDermand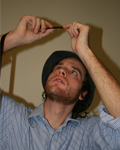 Samuel W. Truss
Dave McDermand, Telecommunications major at Ball State, took full advantage of the resources that were given to him during his first year at BSU. He became very active in sketch comedy group, Something Else, and even started his own sketch comedy group with Marlene Toscano and Adrian Blackwell, called Dinosaurs and Cavemen. He did many things, both on and off the camera, to produce some high quality comedy videos. Although Dave's high school years were mostly devoted to studying music, he became very interested in the works of George A. Romero and various music video directors, such as Jack Kubizine, which helped him decide to study telecommunications. His acting career is primarily limited to his college years, but began in high school with the movie, Hell Walks the Earth 2 in which, Dave played the roll of a Lumberjack Zombie. Dave would like to thank Benjamin Lancaster for allowing him an opportunity to learn more about how the production of a film works and wish him the best of luck in his future endeavors.
Meghan Conley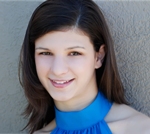 Roxie Phizer
Meghan Conley just completed her freshman year as a Musical Theatre major at Ball State University. Meghan has many theatre credits with high school, community, and summer workshop productions. She also has an extensive dance background, and performed with the St. Louis Hoofers Club across the country. She also has several film and off-Broadway credits. Some of her favorite roles include Reno Sweeny in Anything Goes, Lorraine in All Shook Up and performing at the Leonard Nimoy Thalia Theater in New York City. She loved working on "Finding Xanadu" and would like to thank Ben for the amazing opportunity and the cast and crew for the amazing experience.
Andrew Alexander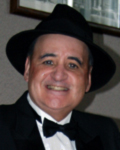 Milford McTeer
Andrew Alexander -- "Milford McTeer", the "bad" actor and "bad" singer in various manifestations in the Truss films, is actually (perhaps) one of the most theatrically "experienced" cast members; having appeared in Hoosier theatrical venues from Fishers to Fort Wayne. "It took all my skill and training as an actor to be truly bad in this film," Alexander says, "But, I think the late Dame Sybil Thorndyke," (with whom he had a master class in acting), "would be darn proud of how convincingly bad I was in Finding Xanadu." Alexander is grateful to be billed ahead of the "hoofer", Anthony Sullivan.
Anthony Sullivan
Hugh Holtzman
Originally from Naperville, IL, Anthony just finished his freshman year as a musical theatre major at Ball State University. Anthony knew he was going to be a performer when he first saw the movie, Twister, in kindergarten. He portrayed the role of John Huff in Ray Bradbury's Dandelion Wine at the Steppenwolf Theatre in Chicago with the Chicago Children's Theatre as a sophomore in high school and Sketch in the Illinois All-State Production of Hairspray in 2009. Other favorite roles were Bobby Child in Crazy For You, Nicely-Nicely in Guys and Dolls, and Harry in My Fair Lady. He would love to thank the wonderful cast and crew for giving him such a great, eye-opening experience and his family and friends for all of the unlimited support throughout the years.
Eric Madden
Scott Post
Elizabeth Bancroft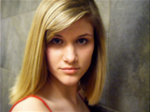 Audrey Simmons
Originally from Cincinnati, OH, Liz is thrilled to be kicking off her career in film as well as stage acting! This Fall, Liz is will be entering her Sophmore year at Ball State University studying Musical Theatre. Though she was most recently seen in the Ensemble of My Fair Lady at Ball State, her favorite roles include Mrs. MacAffee in Bye Bye Birdie and Bird Girl, U/S Mayzie in Seussical the Musical. Before studying at Ball State, Liz was part CCM Prep Department's Musical Theatre Intensive Program, as well as a dancer at Cincy Dance Studio.