Crew
Benjamin Lancaster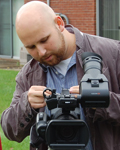 Writer, Director, Producer
Benjamin Lancaster is the creative director of Dog Named Spot Productions. Coming from a theatrical background, Benjamin has leveraged his storytelling skills into the world of new media, working on traditional broadcast programs, digital filmmaking, and content for web distribution. Prior to this, Benjamin produced several television programs for WIPB-TV and wrote and directed for the stage, including a full length musical comedy, Charming, which he cowrote with Tyler Whetstone. He is currently developing several other scripts for upcoming projects. This is his first feature film. Visit his website, www.BenjaminLancaster.net for future updates.
Naomi Addison
Producer, Production Manager
Naomi Addison has produced several short films as well as two programs for a local PBS affiliate. The first, This is My Kitchen (on which she served as Associate Producer) is a cooking program about sustainable foods. The second, Vagabond Indiana is a thirty minute travel program which examines historic theaters and vaudeville houses in Indiana. This is her first feature length project. She lives with her Chihuahua, guinea pigs, and husband in Muncie, IN.
Leigh Montano

Associate Producer, Script Supervisor
Leigh Montano has grown up in the Midwest so the choice to go to Ball State University was a no brainer. Majoring in Telecommunications with a focus in Production, Leigh has helped with on many different productions, the latest being Finding Xanadu. After finishing her degree, Leigh hopes to work for different production houses in Toronto or Vancouver. She hopes to one day live and work in England. She also enjoys knitting and has a penchant for left handed coffee mugs.
Joe Konopa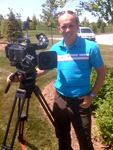 Director of Photography
Joe is a 2009 graduate of the Telecommunications program at Ball State University, choosing production as his content area. As a student, Joe was involved in work for the Ball State Immersion summer HD Film Freewall mixing and editing pieces in stereo and surround sound. He created a short documentary-style educational video about nursing home understaffing as his honors thesis project. Joe has taken two years off from his career path to work full-time as a Catholic missionary at Vanderbilt University with the national non-profit organization FOCUS. You can learn more about his work here: www.focusonline.org/goto/6646
Daniel Risk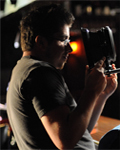 Editor
Daniel Risk is a senior at Ball State University. Since high school, Daniel has been a part of numerous film projects in roles such as editing, directing, and cinematography. After graduation, Daniel attended Dodge College of Film & Media Arts at Chapman University in Southern California. He is now finishing his undergraduate study at Ball State with Telecommunications and an emphasis on production. Upon graduation Daniel plans on continuing his own production company Risk Productions along with joining other production houses in either Indianapolis, Chicago, or Los Angeles.
Website: www.riskproductions.net
IMDB page: http://www.imdb.com/name/nm2574333/
Michael Thompson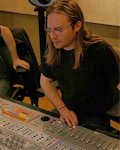 Sound Editor
Michael recently graduated Ball State University with a degree in Telecommunications, with an emphasis on production. During the course of his education he focused his studies and interests on the production of sound and filmmaking. Michael has been a part of several other productions at Ball State. One such production was the annual Summer HD Immersion program in which he was the sound supervisor for principal photography and post-production. Other credits include sound mixing a documentary for WIPB and several other short films. Michael recently directed and edited a short entitled "Double or Nothing" for the Cinema Entertainment Immersion class in the Spring of 2010 before his graduation. With college behind him Michael is planning to make a move to L.A. and pursue a career in filmmaking.
CEI: http://www.cinema-entertainment-immersion.com/
YouTube: http://www.youtube.com/mthompson0610
Kenny Stevenson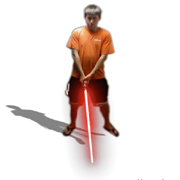 Visual Effect Supervisor
Kenny became interested in digital and emerging media like every other member of his generation as consumer digital cameras began to offer short-span video capturing capabilities. He left grade school already acquainted with several NLE editing software packages and focused at Saint Xavier in Louisville Kentucky on immersing himself in the ins and outs of Adobe After Effects. He soon fell in love with emulating high-end effects prominent in blockbuster movies and incorporated them into his first independently produced feature Dark Below in the spring of 2009. While enrolled at Ball State, Kenny developed a hunger to learn even more about 2D/3D compositing and has proven himself to be an invaluable asset to many production sets and editing rooms. His diverse portfolio and contact information can be found at www.kennystevenson.com
Eric Pascarelli
Color and Aging Effects Supervisor
Eric Pascarelli has been creating videos ever since he tried out Windows Movie Maker in high school, and got hooked. Since then, he has been making countless videos and winning various video contests across the country. Eric specializes in video editing and visual effects and has moved up to using the Final Cut Suite and Adobe CS5. With the completion of a few internships already and working on Finding Xanadu, Eric hopes to soon be editing more movies in the near future. Visit his website: Pascarelli's Productions